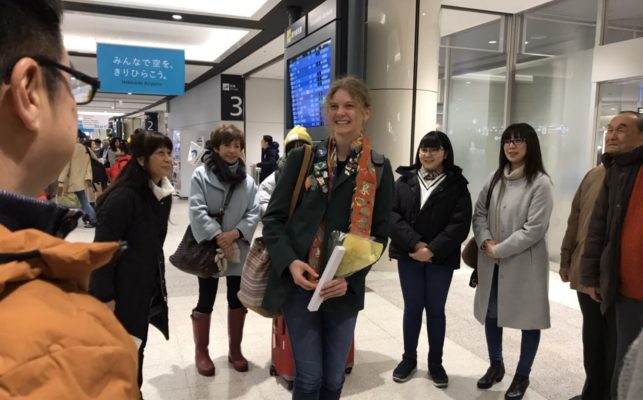 The past two days have been quite eventful so I thought that I might as well share my surreal experiences from the past 2 days. :))
Friday, 17th of January 2020
After I had checked my bag so see if I had packed everything and double-checking my passport for about the 6th time I was finally on the way to the airport. I'm pretty sure that we were told not to bring out whole family but that didn't stop me from turning up with 7 extras…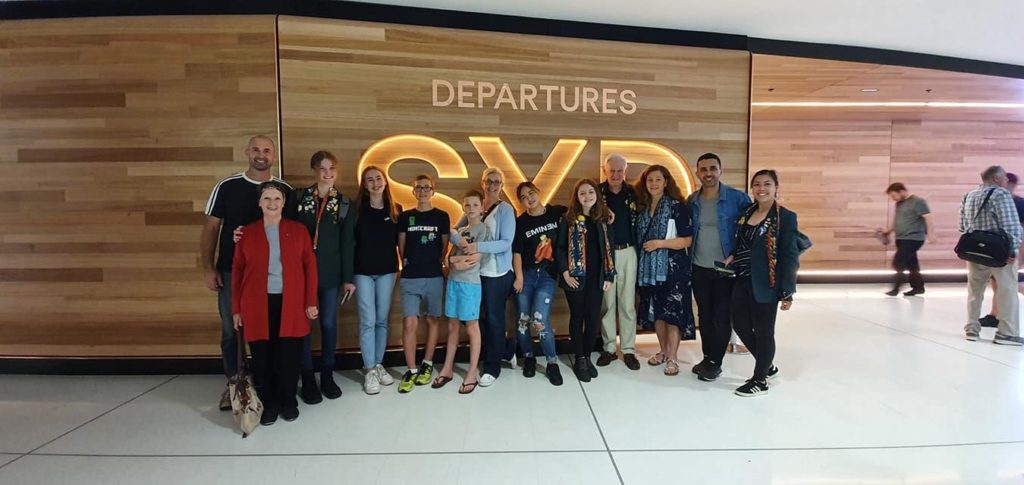 Walking through security was a little confusing but with poppy's help, we made it out ok! we sat down in the terminal and passed time by talking we then met up with another exchange student from Tasmania. We boarded together and started talking about where we were going and why we chose Japan for our exchange. As we were boarding we noticed another green blazer come into the row to our right. She was another exchange student but from Melbourne.
Saturday, 18th of January 2020
After a pretty long flight with an uncomfortable sleeping position, we made it to Haneda. We had to fill out these confusing forms that would allow our entry to Japan. We made it through customs and managed to find a free bus to transport the 3 of us to the domestic terminals. We then all exercised our past Japanese knowledge while we checked in our luggage. Francesca (from Melbourne) had her luggage connected so we said goodbye at the luggage pickup.
The customs in Haneda was very efficient and we got through pretty fast. I have to admit that I was caught off guard by being asked to take off my shoes in order to go through the metal detector (the shoes took a while to get back on)
Poppy and I had to split up with Kaiolynn (the exchange student from Tasmania) because Poppy's gate was the same way as mine while Kaiolynn's gate was in the other direction. Poppy and I talked a while before my flight to pass time. Then we split up so she could head to her gate.
Not long after that, my flight began boarding. I took the opportunity of a 90-minute flight to try and sleep so I wouldn't look like I was bringing some disease into Hokkaido. I woke up 1/2 an hour before landing to see snow and mountains below me and I couldn't help but smile to myself. I was so incredibly excited. I kept looking at the time on my phone, counting down the minutes to my 9:30 arrival.
I got off the plane to crisp (non-smoky) air, it was cold but it was bearable. It was quite the contrast to the weather I left in Australia (but then again, couldn't really be mad at that) I waited in the baggage area hoping to see that large mass of Rotarians I was informed about. But I didn't. and then I got a call from Tatsuaki Ikeda. When I turned around, there they were. A large blue banner was pressed against the glass wall and behind it were at least 20 smiling faces. I felt relieved. After I collected my bag I walked outside and was welcomed by Tatsuaki Ikeda. I was introduced to everyone. Then I introduced myself to everyone and we took a group picture.

After a self-introduction that barely made sense, I headed home with my host family. I couldn't ask for a better first host family they're so welcoming and so friendly. My host family consists of お父さん (father), お母さん (mother) and ゆな (my little sister). They don't speak English but they all make an effort to communicate. We talked on our way to the car and I think we're all relieved that I have a basic understanding of Japanese. I got a small tour around town and I got to see a small part of my school. The quad is covered in a 2 inch blanket of snow.
After the small tour, we made it to the house. I had the pain of taking off my double knotted timberlands in a cramped hallway to then put on some slippers and walk upstairs to the house. I was introduced to 3 cats. Who all loved to lay in my luggage while I was unpacking it -_- they are cute though. one of them is begging for belly rubs every 5 minutes. Which is also simultaneously making this harder to write.
After getting a small tour of the house, we headed out for some lunch followed by groceries. Japanese sushi hits different. It's the best sushi I've ever had and I probably left that sushi train with an extra kilo sitting in my gut. After lunch, we did some grocery shopping. I have to say, Japanese stores are quite overwhelming. There is a lot of colour which is very distracting. After getting the groceries we dropped my little sister Yuna off to her English lessons and I fell asleep in the car on the way. When Yuna was dropped off, we went to the drugstore to get a few more things. Then we headed back home.
I was told I had 2 hours to rest before having dinner at a restaurant. So I took the time to start unpacking. I was invited into the living room for coffee which I took the opportunity to teach my host parents of the beloved Tim Tam-Slam. They were pretty surprised, to say the least. They thought I was bringing out the packets to have as a complimentary snack however, when I started to use the Tim Tam as a straw I heard 'えええ?!' (whatttttt?!). they loved the idea though and after that, we talked until we had to leave.
Soon after, we left to pick Yuna up and have dinner. I had so much fun at dinner. It was the best welcoming I could ask for. After another self-introduction (but a little better this time) I ate so much I felt pregnant (except I wasn't because that's against the forbidden D's). I made my way around to everyone and had a conversation with everyone. many of them seem very interested in Australia and are quite concerned about the fires going on right now. I had such a good time getting to know everyone. they are all so welcoming and friendly. There was a bit of conversation on my height to which had for some great photos. It's great to know I am considered a giant in 2 different countries.
I had such a good first evening that I wouldn't exchange for anything. We headed home after we finished eating.
I'm so thankful for my first day and I can not wait for the many other things I will experience this year